Niagara Apple / Mac Repair
We repair All Apple products! We repair Apple / MAC laptops, desktops, and MacBook Pro, iMac and We recover data from mac and Apple computers and laptops! We are your #1 choice for Apple Mac repair of all kinds.  Apple Mac Repair is what we do. There is no better place to take it then to us. We Give Free Estimates on each repair so there is no confusion on the repair costs.  Low-Cost repairs; Super High Value. We are the most skilled for your repair. Come by our Shop and see what we can do for you. We work on your unit the very same day.We repair Mac computers of all kinds including iMac, MacBook Pro, MacBook Air, Mac Pro, we are Niagara's #1 choice for Mac repair.   We can reload any version of Mac OS X, we give free diagnostics on all computer systems.We have repaired thousands of Macs for both private and corporate customers. We are your best choice because We give a fair price as well as We are police clearance certified meaning we are free from any wrongdoing most of our competitors cannot say the same thing.
Stop by our office for a free estimate on anything you need.  We repair screens, hinge, keyboards, power jacks. We can also upgrade your Mac, we can put the newest software on your Mac.  We can put solid state hard drives on your computer.  we could test out every component of your computer to see what the problem is, we offer free estimates.  most repairs fall in at about $99+hst. depending on the issue(s).We repair MacBook's of all types and all Years.  we repair MacBook Pro screens MacBook Pro hinges, top covers, we upgrade RAM in MacBook Pros.  we fix Software issues.  We can help you same day with any MacBook Pro repair issue you may have.  We have fixed hundreds if not thousands of MacBook Pros for customers both private and corporate we've also upgraded people's MacBook so they run like new.We look forward to seeing you at our location.  2 Pelham town square in Fonthill, Ontario, Canada.  We can help you right away.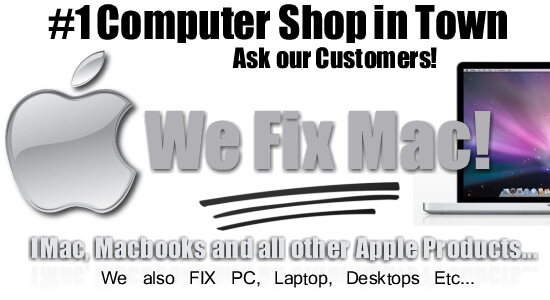 APPLE / MAC PROBLEMS WE FIX / REPAIR
Spillage Damage on MacBook Pro and iMac
Dead-Logic Boards MacBook Pro and iMac
Cracked LCDs / LED Screens for MacBook Pro and iMac
Defective DVD Drives MacBook Pro and iMac
Faulty Memory MacBook Pro and iMac
Hard Drive Failure MacBook Pro and iMac
Panic Errors MacBook Pro and iMac
Black Screen MacBook Pro and iMac
High Pitched Squeal MacBook Pro and iMac
Ticking / Clicking from underneath the delete key on MacBook Pro
Heat-related Keyboard / Trackpad Issues
Macbook  pro and iMac Fan issue repair
Broken Vertical Blue Lines Appear Down Display
Apple Mac Repair Trackpad stuck or bulged out

Liquid spill Damage Repair

Logic-board Repairs and replacement.
Overheating issues resolved. Noisy or faulty fan?

Slow, sluggish system speed-up and serviced.

Broken Screen and Glass Replaced.

Hard-disk Repairs & Replacements.

Question folder or spinning wheel on the screen?

System upgrades and updates.

Os X installation, Software installation and troubleshooting

White, Blue, Black or lines on screen?

Or any display related issues resolved.

MacBook Won't take charge? or need replacement battery?

Won't device power up? keep shutting down or restarting?

Broken Hinges, covers & Cases repaired or replaced.

Business and home networking.

Transfer from your old MAC to new or PC to MAC?